Find out if you can vote.
Take an easy quiz to see if you are eligible to vote!

Elections trivia is fun and fascinating!
Power up your election IQ and challenge your friends or family to a presidential debate!


Vote online or print ballot slips for your classroom election and send us your results.
There's a new topic every week! Visit this web site weekly to see the previous week's results and to get your new election ballot.

Until the 2012 Presidential Elections!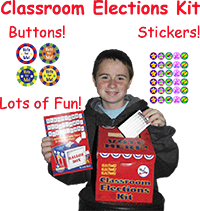 SPONSORED BY




PO Box 2779
Peachtree City GA 30269

Phone: 800-536-2438
Fax: 800-871-2979
Email: customerservice@gallopade.com