Barack Obama – 44th President of the United States

Background
Date of Birth:  August 4, 1961
Place of Birth: Honolulu, Hawaii
Spouse: Michelle Robinson Obama. Married in 1992
Children: Malia and Natasha

Education:
Graduated from Columbia University in 1983.
Law degree from Harvard University in 1991

Occupation:
Community Organizer, Chicago (1985 – 1988). He helped local churches begin programs for the poor; These programs helped poor people get better jobs.
Lawyer, Davis, Miner, Barnhill & Galland Law Firm (1993-2004). He helped to protect people's rights.
Part-time Professor; University of Chicago Law School (1993-2004). Taught law classes.
Illinois State Senator (1996-2004). He raised funds to help families who did not make a lot of money. He also worked to help poor families afford to go to the doctor.
Senator, U.S. Senate (2004 – 2008). He was the only African American person serving in the U.S. Senate. He was only the fifth black U.S. senator ever!
President of the United States (2008 to present). First African America president!

Responsibilities of the U.S. President
Lead the nation's people, making sure citizens obey the laws and setting priorities for the country, including helping Congress decide how the budget is spent.

Manage the government, making sure that decisions and programs are being carried out effectively, with the help of the vice president and appointed cabinet members who head different departments (agriculture, commerce, defense, education, energy, health and human services, housing and urban development, interior, justice, labor, state, transportation, treasury, veterans affairs).

Represent the U.S. in meetings with leaders of other countries, including signing treaties and other agreements (with approval from Congress) on behalf of the U.S.

Command the U.S. military, including declaring war (with approval from Congress).
First Lady – Michelle Robinson Obama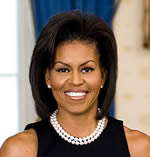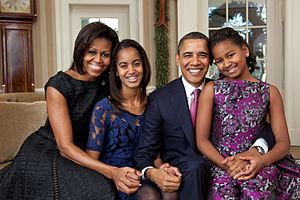 Malia Ann Obama – First Daughter
Natasha "Sasha" Obama – First Daughter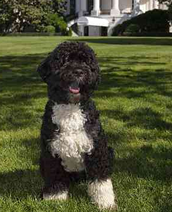 Joseph Biden, Jr. – 47th Vice President of the United States