Joseph Biden, Jr. – 47th Vice President of the United States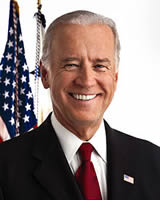 Background
Date of Birth:  November 20, 1942
Place of Birth: Scranton, Pennsylvania
Spouse: Neilia Hunter. Married in 1966
Children: Joseph "Beau" Biden, III (1969) Hunter (1970), and Naomi Biden (1971)
A Tragedy: One month after Joe was elected as U.S. Senator, his wife and three children were in a terrible car accident. His wife, Neilia, and his one-year-old baby daughter, Naomi, died. His two sons, Beau and Hunter, were hurt but not killed. He was thankful to still have his two sons.
Spouse: Jill Jacobs. Married in 1977
Child: Ashley Biden (1981)

Education:
Graduated from the University of Delaware in 1965. He studied political science and history.
Law degree from Syracuse University in 1968

Occupation:
Trail Attorney at Prickett, Ward, Burt & Sanders (1968 – 1972)
County Councilman, New Castle, Delaware (1970 – 1972)
U.S. Senator from Delaware (1972 – 2008)
Announces first bid for president (1987)
Pulls out of the race (1988)
Launches second bid for president (2007)
Ends second bid for president (2008)
Elected Vice President of the United States (2008 – present)

Accomplishments:
Became one of the youngest senators (fifth youngest) at age 29 and one of the longest serving senators (36 years)!
Became a member of the Senate Foreign Relations Committee. The Committee talks about politics with other countries. Joe helped other countries become friends with the United States.
The people of Delaware liked Joe as their senator. They re-elected him four times!
Joe helped lower crime in many cities by adding more policemen.
He fought hard to make sure that drugs do not come into the United States.
He has also tried to stop terrorists from attacking America.

Responsibilities of the U.S. Vice President:
The major responsibility of the vice president of the United States is to succeed to the presidency in the event of death, resignation, removal, or incapacitation of the president.
Primarily, the vice president serves as the president's representative and carries out any duties the president assigns. The vice president also serves as president of the Senate and has the power to break tie votes in that legislative body. After a presidential election, the vice president certifies the official vote count of the U.S. Electoral College.
The daily role and function of the vice president depends on the specific relationship between that person and the president. Duties often include serving as spokesperson for the administration's policy, advising the president on important decisions, hosting foreign dignitaries, and representing the president at special events.
Barack Obama – 44th President of the United States

First Lady – Michelle Robinson Obama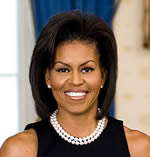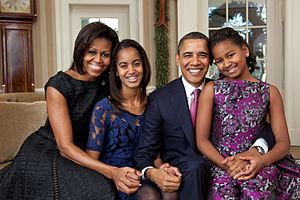 Malia Ann Obama – First Daughter
Natasha "Sasha" Obama – First Daughter