School-wide eBooks
are an easy, affordable, effective, and immediate way to supplement and expand your school library collection!
School-wide eBooks
are web-hosted digital eBooks that allow simultaneous online access for students and teachers for up to 5 years from the purchase date. Multiple users can log in at the same time, either from school or at home, by using a computer, tablet, or other device with Internet access. They are available exclusively from Gallopade.
School-wide eBooks provide School Libraries high value at a low price!
No lost books; No damaged books; No checking out; No checking in; No late returns
No limits on availability - One login and password works for your whole school to access the same eBook at once!
Projectable for electronic whiteboard use and allows multi-user access -- perfect for reading groups and whole-class reading assignments!
Christina, Grant, Mimi and Papa head to the Great Smoky Mountains and end up in an A+ Appalachian mystery complete with an eerie mountain haze, spectacular scenery, a boisterous bear, confounding clues, and mystifying folklore! One very Blue Ridge! One crazy quilt! One fearless fiddler! One hoot in a holler! And a Smoky secret!
LOOK what's inside this mystery - people, places, history and more!
PLACES: Smoky Mountains Skyline Drive Blue Ridge Parkway Great Smoky Mountains National Park Penland School for Crafts, Asheville, NC Cherokee Indian Museum and Sequoyah Statue, Cherokee, NC Mumble Peg Bookstore, Bryson City, NC Cades Cove The picnic area near the Abrams Falls hiking trails Laurel Falls Clingman's Dome Observation Tower.
SMOKY MOUNTAIN FACTS: Location Ecosystem: Plants, trees, bushes, animals, biodiversity Geography: hills, waterfalls, bald mountains Nicknames: Great Smokies, Great Smoky Mountains Foods: Western North Carolina barbeque, sweet tea.
HISTORY: Cherokee Tribe: History, legends Cherokee Legend of the Enchanted Waterfall Cherokee Alphabet "Trail of Tears"
PEOPLE: Sequoyah.
SCIENCE: Weather: Mist/fog formation Animal conservation and techniques Skunks.
MATH: "Part of a section of a whole."
ARTS AND CRAFTS OF THE REGION: Glassblowing Painting Quiltmaking.
Like all of Carole Marsh's Mysteries, this mystery incorporates history, geography, culture and cliffhanger chapters that will keep kids begging for more! This mystery includes SAT words, educational facts, fun and humor, built-in book club and activities.
Below is the
Reading Levels Guide
for this book:
Grade Levels: 3-6
Accelerated Reader Reading Level: 5.3
Accelerated Reader Points: 2
Accelerated Reader Quiz Number: 140440
Lexile Measure: 820
Fountas & Pinnell Guided Reading Level: Q
Developmental Assessment Level: 40
Get your
FREE
Resources!

1. Download the Carole Marsh Mysteries
Real Kids! Real Places Correlations to Common Core/State Standards
HERE
.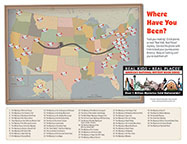 2. Download the
Where Have You Been
map
HERE
.

3. Download additional activities including Fact or Fiction, Fascinating Facts, Book Club Discussion and Book Club Activities
HERE
.

4. Utilize the Real Kids! Real Places! Common Core State Standards Teacher Resource for classroom discussion questions and activities for ELA grades 2-6. This can be used for all 48 mysteries
HERE
.
5. Want a sneak peak? Read the first three chapters
HERE
.