Christina, Grant, Mimi and Papa fly the Mystery Girl, and take the mystery boat, Mimi, to all the Great Lakes on a wild and watery adventurous mystery of shipwrecks, haunted lighthouses, and island intrigue!
LOOK what's in this mystery - people, places, history, and more!
Facts about the Great Lakes: Geography and Topography; Size; Nicknames; Marine life and ecology; Fresh water; Percentage of the fresh surface water in the world Types of ships that use the Great Lakes: Freighters; Cutters and Ice Breaker Ships; Schooners; Pleasure boats Shipwrecks: The Francisco Morazan, South Manitou Island, Lake Michigan; The Lucerne, Lake Superior; Edmund Fitzgerald, Lake Superior; Environmental impact Shipping on the Great Lakes: Shipping routes; Types of Cargo; Economic benefits Weather on the Great Lakes: Thunder and Lightning Storms; Whiteouts; Nor'easter; Rouge Waves Sand dunes Lighthouses Bessie, the legend of the Lake monster Distress signals and radio communications Maritime law.
Niagara Falls, NY Rock and Roll Hall of Fame, Cleveland, OH MI: Great Sleeping Bear Dunes, North Manitou Island; Manitou Islands; Round Island Lighthouse; Mackinac Island - History, culture, foods, and folklore; Mackinac Straights Island House Hotel; Great Lakes Shipwreck Museum; Maritime Cathedral Little Sand Bay and the Apostle Islands - Visitor center; Sand Island - Ferryboat ride; Lighthouse Devils Island - Lighthouse; Caves.
Like all of Carole Marsh's Mysteries, this mystery incorporates history, geography, culture and cliffhanger chapters that will keep kids begging for more! This mystery includes SAT words, educational facts, fun and humor, built-in book club and activities.
Below is the
Reading Levels Guide
for this book:
Grade Levels: 3-6
Accelerated Reader Reading Level: 3.9
Accelerated Reader Points: 2
Accelerated Reader Quiz Number: 135936
Lexile Measure: 620
Fountas & Pinnell Guided Reading Level: Q
Developmental Assessment Level: 40
Get your
FREE
Resources!

1. Download the Carole Marsh Mysteries
Real Kids! Real Places Correlations to Common Core/State Standards
HERE
.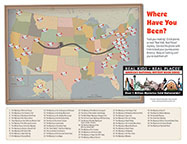 2. Download the
Where Have You Been
map
HERE
.

3. Download additional activities including Fact or Fiction, Fascinating Facts, Book Club Discussion and Book Club Activities
HERE
.

4. Utilize the Real Kids! Real Places! Common Core State Standards Teacher Resource for classroom discussion questions and activities for ELA grades 2-6. This can be used for all 48 mysteries
HERE
.
5. Want a sneak peak? Read the first three chapters
HERE
.